Laser cutting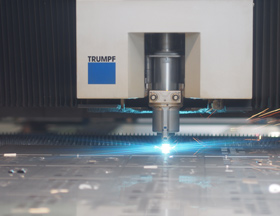 The "prefabrication" sector includes the technologies for laser cutting, punch nibbling and bending. Sheet metals of different material types and thicknesses are machined. Modern laser systems and punching machines connected to an automated high rack warehouse are the core of our sheet metal machining line. Short lead times at a constantly high quality are our trump card.


Both laser systems are equipped with pipe-cutting equipment. Holes and complex contours are cut in one single step, and the process of cutting to length is carried out. This provides a prerequisite for innovative tubular constructions at reduced manufacturing costs as compared to conventional procedures.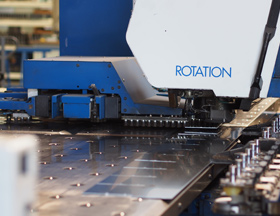 Special tools expand the machining options on the punching machine.
Deformations such as summers or upturn beams are only two from among the several options available.
The deep integration of the CAD work stations ensures manufacturing-optimised construction, taking into account the machine parameters and limit values. We are thus in a position to manufacture complicated flexible parts ourselves with great repeat accuracy.


Sensor-monitored precision in our bending presses and the longstanding experience of our employees make K-METALL a specialist in "tricky" flexible parts.                         
We look forward to receiving your request.
.