Welding and finish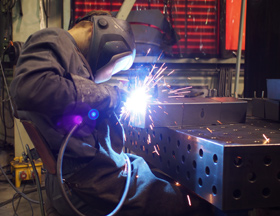 From a simple weld seam up to the complex welded construction - our welders have long years of experience and can master different technologies such as MIG, MAG, WIG, and spot or stud welding. For the last-mentioned procedure, we have set up an automated work station for part sizes up to xxxxyyy mm. For large quantities of the same parts, a welding robot by the manufacturer REIS, with an interchangeable workstation and rotating device, is available.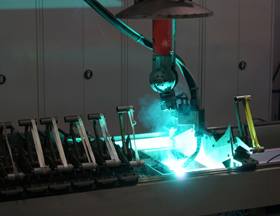 A special feature of our company in the welding sector is the certification in accordance with DIN 15085-2, also referred to as the railway standard. In addition, the specifications in accordance with DIN 18800-7 (steel construction standard) as well as DIN 2303 (defence products) are fulfilled. Regular advanced training of the employees and recorded tests of the weld seams and workpieces are a prerequisite for this. Quality you can rely on.
The majority of the workpieces and products require a finish machining. This stretches from removing sharp edges or burrs, also known as plastering, to manually applying polishes right up to the mechanised surface finishing using corresponding machines and equipment. In addition to the dimensional accuracy and precision in the preliminary working processes, it is the skill and experience of the employees in this department which significantly influences the appearance of the finished product or component in accordance with the customer specifications.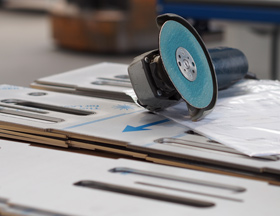 If surface finishing is required due to coating in varied procedures, we fall back on certified cooperation partners that are involved in the monitored scheduling framework in order to be able to comply with the confirmed delivery date.
.